Details of house "Carmen de Santa Ana", Granada, Spain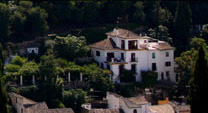 "Carmen de Santa Ana" is a beautiful, spacious and tranquil old house with delightful and famous terraced gardens and its own charming large secluded pool, overlooking the ancient centre of Granada, one of the world's most beautiful and historic cities. It is a perfect haven for large families or groups of friends to paint, read, make music or just relax in spacious tranquility right in the vibrant bohemian heart of Granada. Your base too for the exploration of Andalucia, or in winter for a skiing holiday with a difference.
It sits in total privacy next to the Alhambra itself a two minute walk up the hill from the Darro river that runs through the heart of the old Moorish town.
The furnishing is mainly 19th century in the living areas, with very-high-quality beds and bedding on larger than normal beds .....and an ultra modern underlying infrastructure.
The house has a fabulous view over the incomparable Albaicín, the medieval Moorish centre of Granada, and, remarkably, shares a garden wall with the gardens of the Alhambra, the greatest of the wonders of the Moorish period in Spain.

Granada itself is a compact city with much to see besides the Alhambra palace. Since the house is so central, if you're remaining in Granada you don't really need a car, however there is a Mercedes available should you wish to explore further afield, and a very good value car hire firm only 2 minutes walk from the house. Most locals prefer to walk everywhere, since nothing is more than 15 minutes away from the centre of the city; there are bicycles on request at the house in case you are in a hurry.





General. The accommodation is for up to 17 people. 10-13 in the main villa, and up to 4 in the separate apartment which you can also hire. The villa is laid out for 10 people in 5 bedrooms, but this can be extended to 13 guests, or 14 on request, by bringing extra beds into the larger rooms (one single, one double). 2 child cots are also available on request. The house has a full-time gardener and caretaker. Housemaid service available.
Extra apartment - increase to 17 max. Carmen de Santa Ana also has a separate but large integral apartment, with its own bathroom, on a separate floor. The apartment can be rented for a small extra cost. The sleeping area in the apartment has 2 large double sofa beds (sleeping up to 4 people). There is also a small kitchen with fridge, oven and microwave so you can still easily have breakfast in bed, and although the kitchen is equipped with crockery and utensils for 4, we think you'll be eating together with everyone else in the main part of the Carmen de Santa Ana.
Bedrooms and bathrooms. Up to 10-13 people can stay in the house, but if your group is larger, either hire the extra apartment, see above, or contact us so that we can advise you on alternative choices of nearby hotels, flats.
In the main house, there are 5 large bedrooms and 4 bathrooms, three of which are ensuite. There is a further shower bathroom outside on the rear terrace. All of the bedrooms have good, if not astounding views. Two of the bedrooms have double beds, the rest have twin beds. The highest bedroom is particularly interesting and charming, built in a broad tower directly above the main bedrooms. The view is breathtaking. And a perfect hideaway. The bathrooms have all recently been totally re-modernised (re-walled, plumbed, wired and tiled). Two are done as bathrooms, two as showers, and all have the highest quality finishings, hairdryers, built in hi-fi etc. The bathrooms have bidets.






External dining. There are several terraces and balconies with a fabulous view straight over the Albaicín. The main terrace beside the large dining kitchen is a fabulous place for an idyllic evening meal...or to take shade under the vines at lunchtime while soaking up the view. This terrace is also enclosed and includes a lockable gate so that small children can be constrained from wandering off to the swimming pool or garden steps. For dining outside, there are 2 large Moroccan inlaid mosaic wrought iron tables with 12 wrought iron chairs.
Table, chairs and sunloungers are provided on the terraces by the pool (~40' x 16').



Internal dining and living. The "old style" comfortable main living room has a separate dining balcony which overlooks the gardens and the heart of the city. Or on a winter evening, warm your ski-legs by the open fire. Comfortable sofas, tables, desk, surround sound hi-fi with radio, twin tape, CD changer, DVD, TV and PC are provided. The hifi has an input cable for your ipod. There is a small collection of CDs and, for the technically minded, a large collection of MP3s on the PC which can be played through the hi-fi. This room also has an excellent piano and 2 TV points. For internet access, secure wi-fi is provided, and 4 "always-on" high speed ADSL broadband wired access points for greater speed and reliability (along with one in most other rooms and 3 on the garden terraces). The living room is also the central point where the selection of music or local and international radio channels can be made for distribution to living rooms, bedrooms and bathrooms for those not wishing to lose track of the film on DVD, or even those wanting to listen to John Humphries live in the shower on holiday! TV and DVD signals are also distributed to sockets in almost every room (however only one TV is provided, whose home is the living roon).
There is an exceptionally large living dining kitchen (with an area where there are some soft seats and a sofa etc for people to hang around). The large oak dining table extends twice to take 12 people with ease...we've had 16 squeezed round it one Christmas. It has a large terrace right next to it, mentioned above, with another large table under a huge grape vine, which is where we most often eat, looking out over the Albaicin. The fully fitted kitchen includes dishwasher, microwave, large fridge-freezer, espresso, large chimney above cooker / hob and a full range of high quality cooking pans knives and other equipment. There is a separate laundry.. via a separate door to the rear terrace (with separate external utility rooms with washing and drying machines, heating boilers) and some more grape vines.



The storage rooms contain various items including bikes which can be used on request (a small charge is made to cover the inevitable bike maintenance and Mikel's time and general hassle...sorry). There are also tennis and squash courts in the area, if you need some exercise, and more bikes can be found for rent in one of the Plaza Nueva side streets, on the south-east side.
Heating. Warning !! Granada is a warm place, but in winter there is extensive skiing in the mountains nearby, and although Granada is 4000' lower than the base, it can get cold. For winter, the house has full central heating, and wood-burning fires. In summer, the night time cooling effect of the mountains is one of Granada's greatest assets.






You will find the following at "Carmen de Santa Ana"
fully equipped kitchen (10 place settings, extras on request)
dishwasher, washing machine, drying machine, cleaning utensils
large beds (1.9m), bed linen of the highest quality, duck-down duvets in winter
bedroom towels
hairdryers in all 4 bathrooms
TV, Hi-fi (CD, tape, radio), DVD, Internet radio.
music, sound and radio distribution throughout house, including all bathrooms (inc all major UK, US, Can, F, D, Iberian, Aus, NZ, CH, Benelux, and Scandinavian channels)
computer terminal with "always-on" ADSL Internet access
secure passworded wi-fi
unlimited use of wired ADSL broadband Internet in all main rooms, bedrooms and gardens
ethernet network (RJ45 sockets/CAT5) for plugging in laptops in all main rooms and gardens
Wifi, so that you can access the Internet from your laptop. Mikel will supply the password.
radio channel distribution in all rooms
telephones (use on request)
new piano (use on request, key available)
outdoor shower and WC for the pool, barbeque
garden furniture
a stylish and beautiful old Mercedes saloon, RHD. (On request. We only ask for €110 a week. To be insured for 3rd party risks by guests. No recovery or repair service. No performance guarantees. See details).
Unfortunately, although nearly all these items are modern (with the exception for example of the Mercedes), given their nature it is not possible to guarantee that they will always function and never break down. If they fail, further help can be obtained from the gardener/caretaker, plus you will find a list of repair telephone numbers in the guest book that you can use to have them repaired. Other than for minor items that can be repaired or replaced immediately, we require you to let us know if any item breaks or fails as soon as this occurs.
Additional Services. We can also usually arrange for a housemaid to help you with odd tasks for a couple of hours each day if you wish. This might include shopping, cleaning and cooking. The cost is inexpensive, and can be very handy when you are all having a holiday, and the town is new to you. Please tick the box on the booking from.
Local supermarkets such as the famous El Corte Inglés will deliver food to the house at little or no charge, which is a great help when first arriving and needing to stock the kitchen. Note also that there is a grocery shop near the house which is usually open until Sunday lunchtime.
The games room and home cinema is a bit of a treat which we finally put together in 2009. It's inside the extra apartment, which is on a separate floor. You can hire the games room and home cinema by requesting it on the enquiry page.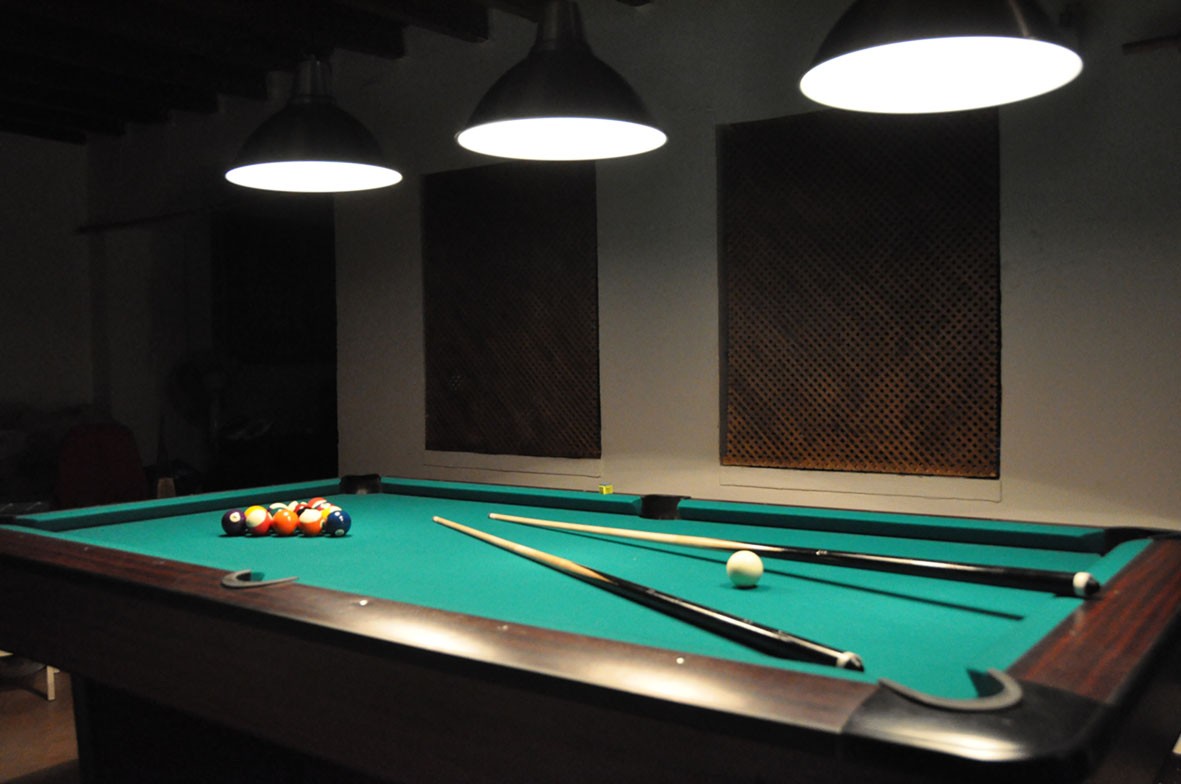 Pool
We bought the thick-slate pool table in 2009 after it had been used only once for a professsional pool competition. It weighs 600kg. That's more than half a ton. The table is perfectly level and stable, and covered when not in use with a protective cloth and a table tennis conversion.
Table Football
Again, our table is not a "domestic" table, but a "bar standard" version.
Table Tennis
The full sized table (9' x 5', or 108" x 60", or 2.75m x 1.53m) fits on top of the pool table. 4 good quality bats are provided.
Sound system
Whatever is playing on the main villa sound system can be switched through to the games room, or you can plug in your ipod instead.
Home cinema
In the evenings, why not unwind together and watch a film on a big screen ? The home cinema has a huge 96" (8 feet, 2.5m) screen, surround sound, overhead digital projector, seating for nine on two large 3-seater sofas and three large bean bags, fridge and espresso coffee maker, and a library of 200 films. You can bring your own DVDs too, or play directly from your laptop (your laptop will need a VGA output or preferrably a DVI or HDMI output). There are some extra chairs to squeeze a few more in.
We are lucky enough to have the services of a wonderful chef, who when he is not teaching people how to ski or paraglide (he can do that too for you, if you like dangerous sports !!) cooks for us at home in Granada, and can usually be persuaded to cook for you too.
You might expect this to be expensive, but it isn't. Click to get in touch with him directly....Find out more.....
Thai Yoga massage is very special. While in Granada, would you and your fellow visitors like a Thai Yoga masseuse to visit the house, and help your body get into a relaxed holiday state ? Find out more.....
Niki was introduced to me by the chef. She is a highly qualified Thai Yoga masseuse, and is on call to provide treatments both in the Carmen de Santa Ana, or in her retreat situated on the Moorish hill of the Sacromonte with incredible views of the Alhambra.
Thai Yoga is said to be very therapeutic, and we are lucky to have Niki's services available. For more information or booking details get in touch with her directly...click here. She does get quite busy, so don't leave it too late.
Again, you might expect this to be expensive, but it isn't.
Have private one-to-one lessons laid on for you, or lessons for small groups, when you want, by a local spanish professional language teacher. (Highly qualified, experienced and full time teacher).
The visitor pages give tips on where to do your shopping.

Meanwhile, download a copy of our copyright bi-lingual english-spanish shopping list by clicking here.

It's got a Spanish column and an English column, and a place for you to enter the quantities. You can save it, print it, put it on your laptop, take it with you, or all the above. Also very handy to stop you forgetting things.
Email it back to me if you think of some useful additions.


Diversions
Arriving in a new city, it takes time to find out where the best places are....and often it's then too late.
How about this....
Sunday - Arrival, relaxation. Dinner together (prepared by my chef) on one of the terraces of the villa, overlooking the ancient city
Monday - A walking tour of Granada may be appropriate for the Monday. Thai Yoga massage. Dinner in the city.
Tuesday - Lunch and dinner at the villa, chef on hand. Flamenco show in the evening.
Wednesday - Visit the Alhambra. Visit the Arabic Baths with aromatherapy massage. Dinner at a restaurant.
Thursday - Morning: Horse riding in the Sierra Nevada mountains. Lunch: Tapas tour in old Granada. Dinner at the villa.
Friday - Skiing in season (1 December to mid April). Dinner at the villa.
Saturday - Relaxation either in Granda, or trip to the beach at the (almost) deserted Costa Tropical (12 months a year). Dinner in restaurant in old Granada.
Sunday - Departure.
Let me know if you'd like help with this or something similar.
Granada
Granada is the home of the Alhambra, right next to the house. One of the most glorious and moving monuments in the world, an astonishing "must see" survivor of religious attack and disdain, long term earlier Spanish neglect and, amazingly, of Napoleon's orders (disobeyed) to destroy it. The last and most important seat of power for the 800 year control of the Iberian peninsular by the most civilised and advanced force in Europe at that time. The loss of Granada in January 1492 by the moors to the catholic kings was the signal for Columbus to seek permission from Queen Isabella for his voyage of discovery later that year (in Santa Fe 5 miles just from the house). It also marked the start of the soaring power of Spain, and the roots of its eventual decline. All this history is laid out in Granada, which retains the intimate, relaxed and civilised feel of the Moorish reign, beatifully mixed with the changes of the next 500 years of Christian rule.

Granada is the perfect base to explore the magic and beauty of Andalucía: the Moorish old cities of Cordoba, Sevilla, Ronda; the almost permanently snowcapped mountains of the Sierra Nevada, the ancient villages of the Alpujarra hills, and much more. Granada is also a place for the active, with magnificent and unrestricted horse-riding in the mountain foothills, over 80km of skiing from 3500m down to 1800m for 4-5 months of the year, beautiful beaches 60 minutes away with hardly a non-Spaniard in sight, weekend yacht charter from Spain to Morocco or the Balearic Islands, tennis, squash and beautiful walking. Golf is also played in the area. Granada has some excellent language schools, where you can spend a few hours each day in a class of 8, or take private tuition in the school, and sometimes even in the house.
There are several tennis courts and clubs, including some excellent public courts in the centre of the city next to the river Genil. More details in the visitor pages, along with phone numbers for horse riding, skiing, restaurants and numerous other helpful sources.
If art or painting is your interest, contact us....we receive resident artists once or twice a year for individuals, couples or groups of aspiring artists looking for something special. Some of the most famous local artists in Granada have painted regularly in the gardens of the house. There is endless ancient Moorish art to explore....and the colours and light of Andalucia are renowned for painters. Or if you are feeling adventurously creative, why not come and help us design and make traditional Moorish mosaic floors in the garden !
How about some truly deep relaxation ? Before going out in the evening, try the incomparable local baths. The Romans learned the art of luxury bathing from the Arabs, and the tradition of ancient Granada is reviving 2 minutes from the house in the new Arabic baths, which imitate the princes' baths in The Alhambra. It's like a spacious sauna...a social event where you chat with your friends in long pools of hot water, with optional cold plunges and massages from the staff (highly recommended). Take your swimming kit, and reserve in advance !! No more than 14 people in any one session (approx. 90 to 120 mins). LINK, PRESS ARTICLE
At night, Granada has a vibrant yet relaxed atmosphere. Well away from the crowds of tourists on the costas, the Spanish relax throughout the night in the old centre or in Sacromonte just up the hill in the most friendly (and inexpensive) atmosphere imaginable, right on your doorstep. The peaceful "Carmen de Santa Ana" is in the very heart, a stone's throw from the great cathedral, and among the best restaurants, plazas and the best Tapas bars in the world.
For more information on what is going on in Granada, where to go, what to visit, where to buy things... visit the info page where you will find lots of very relevant addresses, phone numbers and websites.
Here are some tips, including from previous visitors...all very sensible and useful. Please let us know if you have any of your own.
Book your tickets for the Alhambra early..especially early if you are visiting form April to October. You can phone or do it on-line...go to the info page for details
When skiing, buy a long term skipass...they last for years, and charge it up only with the credit you need online. That way you avoid the queues (lines, for Americans !) at the start of your skiing day...go to the info page for details
Hire a car (if you really need one) IN GRANADA, booking it before you come so you are sure of the price...go to the visitor pages for recommendations.
Shopping for food...see the visitor pages for recommendations. Download and print the bilingual english spanish shopping list before you set off.
Have a look at previous visitors' comments on restaurants.
For the pianists amongst you, bring headphones with a 1/4 inch jack for the Yamaha piano.
Download and print city maps and directions from the visitor pages.
Look at some of the paintings made by famous artists visiting the villa
Contact the tourist office long before you depart, and get them to send you town maps. Details of festivals and so on can also be obtained from the info pages, as can contact details for the tourist office. In fact, there is even the address of an interactive and quite detailed map there, in case you forget.
Most buses stop on "Gran via de Colon", just below Plaza Nueva (where there is a taxi rank). A taxi is a good and inexpensive way of getting to the bus station or train station, and will take 8 minutes frm Plaza Nueva in light traffic and 15 or so otherwise.
In case it is of value to other visitors I have discovered that the traffic bollards in Plaza Nueva are up as follows: Mon to Wed 1100 - 1400 & 2000 - 2400. Thurs to Sun 1100 - 1400 & 2000 - 0500. These times can change.
Get a spanish pay-as-you-go SIM card and put it in your mobile phone afte you have arrived at the Carmen. Leave a message with your new spanish number for your friends or colleagues, unless you want to be left in peace. Save lots on incoming calls ! And calls in Spain. Make it affordable for Mikel the caretaker to call you. Buy them at any of the high street phone shops..watch out for the vodafone sign.
Browse the info page !
Browse the page on getting there
Send us your tips here.....