Offsite work venue: inspirational private villa with conference facilities
Stunning location - competitive all-in costing - unbeatable 'after-work' options - 3 hours London
Running a corporate event ? Need a special location to get your co-workers together for a few days ?


All-in costing no different from work-offsite locations in the UK
The most amazing location in the whole of Granada (click photo to the right)
After work: The Alhambra and all of central Granada literally on your doorstep, skiing at 3500m from Nov-April
10 seat conference room (digital projectors, conference phone, wired ADSL broadband, wifi)
6 bedrooms, 12 beds
Full personal catering service
Games room, home cinema, swimming pool, huge gardens, amazing views of ancient city centre
Direct flights to Granada airport (9 miles) from Stansted and Liverpool, and to Malaga from most airports in UK.
What people think
|
Schedule
|
Villa & Location
|
Conference Facilities
|
FAQ
|
Price
|
Enquiry
Bookmark
|
Brochure
|
Register for info
|
Photos
|
Contact
|
The company
Here's what previous visitors have said:
"What's unusual is that you're right in the heart of Granada, in your own private villa, with all the high tech stuff that works for an away day, with catering on hand, that just makes for a much more productive work offsite environment than sterile corporate event mass market catering from hotel groups." H.Oord, JWT London.
"Whether there's 6 of you that want your own room and you just want to do some serious hard work and get through the agenda, get to know each other, enjoy times away from the office in a luxury villa in a stunning small city, or whether it's 12 of you willing to share rooms, or 6 of you who want to take your partner, there's every possibility here". Jane Grayson, Offsite Locations.
"Bloomin 'eck, I'm coming back here with my directors. I couldn't believe it - the villa literally shares the garden wall with the Alhambra. We worked hard, it didn't cost much, and we had so much fun together after the work was done". Simon Rees, CEO, Mindshare.
"There's nothing that makes you work harder than the knowing that you've got a booking to go round the Alahambra at 7.30 that night, and you're b....ered if you're going to miss it. Just makes you want to work harder. There's something about being in an amazing setting that just makes you think that you can get your work done really quickly and just get out and walk around it. There's also nothing like seeing something as amazing as the Alhambra, to see your corporate probems in a different context." J. Grigg, SBC.
We recently hosted a 4 day work offsite corporate event for a team of 8 from a consumer electronics company in Holland.
Arrived: Monday night. Departed: Friday night (or stay until Sunday, joined by partner)
Working sessions: Tuesday - Friday. Mixture of events: workshops, teleconferences, meals and refreshments.
After work: games room, Thai Yoga massage, swimming pool, Alhambra visit, evening Flamenco show, Tapas tour, Arabic Baths. (Also available: skiing Dec-Apr, horseriding, raquet sports, mountain walking, cycling, golf, shopping, tours to Ronda/Cordoba/Sevilla).
Food: Breakfast, lunch and evening meal all prepared by the private chef, eaten on the terraces overlooking the Albaicin.
Price: From 165 Euros per day per person. (Tax deductible for training and staff development). Included: 4 nights, breakfast and lunch for 4 days, conference room, and up to 3 extra nights for any delegate at half price.
the villa itself the location conference facilities & services





<large image of the house and gardens> <small image of skiing>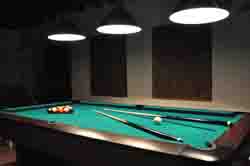 As an offsite work venue, or simply for corporate event travel service, Carmen de Santa Ana is unique. It combines incomparable location, stunning villa, conference facilities and gardens with what is essentially a very personal hotel service. The list below is not a comprehensive list of what is available. Please ask if you have other needs.
10 seat conference room with digital projector, conference phone, wired ADSL broadband, wifi
full broadband, wired and wifi, in all living & working areas, bedrooms and gardens, voip phones in all key areas with internal pbx
home cinema, games room with pool, table tennis, table football, home cinema, distributed music system
chef provides breakfast, lunch and evening meal as required, eating on one of the many garden terraces, balconies (or inside if you prefer).
concierge / maid service (from 8am to 8pm)
UK telephone service, (useful for inbound calls and teleconferences)
daily laundry available
in room / by the pool massage service
airport transfer available from Granada, Malaga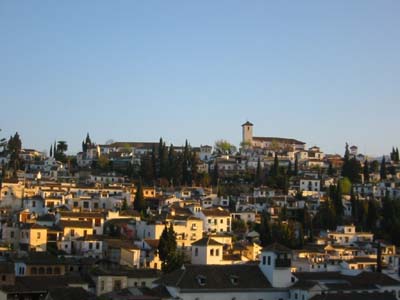 From 145 Euros per day per person, based on 4 day conference.
Included: 4 nights, breakfast and lunch for 4 days, conference room, and up to 3 extra nights for any delegate at half price.
We will work with you to create a competitively priced overall package. For full quote, please go to enquiry.
download brochure - Print a single page glossy which shows your colleagues the essentials.
enquiry - Ask about dates, or anything else, or request a reservation. (There is no commitment at this stage)